Premium, cold-pressed imported extra virgin olive oils and and naturally aged, balsamic vinegars are here in Charlotte, North Carolina!  We're a locally-owned and operated store located at The Shops at Piper Glen (near Trader Joe's on Rea Road) offering you a 'try before you buy' experience with over 45 varieties. All of our oils and vinegars are imported to our store and bottled locally on site. Tap into our recipe library for great olive oil and balsamic vinegar recipe ideas and follow along with step-by-step illustrated directions.  Discover something new and let us know what you think!
Discover. Taste. Love.
---
FEATURED RECIPES
To a Delicious and Healthy New Year
The beginning of the New Year is often the catalyst many of us need to start fresh.  We  hope these recipes inspire you to either try something new, stay on a healthy track, or bring an interesting new ingredient into your home cooking repertoire.
Click on the main image for the full recipe and step-by-step photos.
---
Olive This! Becomes First Store in Charlotte, North Carolina to Earn Ultra Premium Certification
Ultra Premium is a new grade in the industry that distinguishes the highest quality olive oil in the world from what dominates the so called "gourmet" and "premium" olive oil markets.  The UP standard is reserved for the finest EVOOs in the world and as such, the grade of UP exceeds all existing European, Italian, Spanish, Greek, North American or any other standard known as extra virgin olive oil.  In order to qualify for Ultra Premium grade, the EVOO must meet or exceed a comprehensive set of production, storage, transportation, testing, chemistry, and organoleptic requirements. We're both excited and proud of this new certification.  You always knew the olive oil you enjoyed from the store was of premium quality and held to the highest standards but now it's certified!  To find out more, (and see us on the certified list) click here!
---
Private Parties at Olive This!
Need a new and creative venue for your next wine tasting, book club or social gathering?  You and your guests will enjoy after-hours access for personal tours, private tastings, recipe ideas and our recommended pairings. Bring your favorite food and beverages to serve your guests. The venue and staffing for the event are both free of charge. Call for more details.
---
Custom Gift Baskets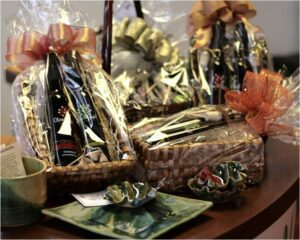 Create your own combinations of olive oils, balsamics, food items and accessories and personalize your gifts to suit the occasion. Whether they are corporate gifts, hostess gifts, birthday or anniversary, many of our customers have found our decorative gift baskets an ideal alternative to the traditional bottle of wine. Click here for details.