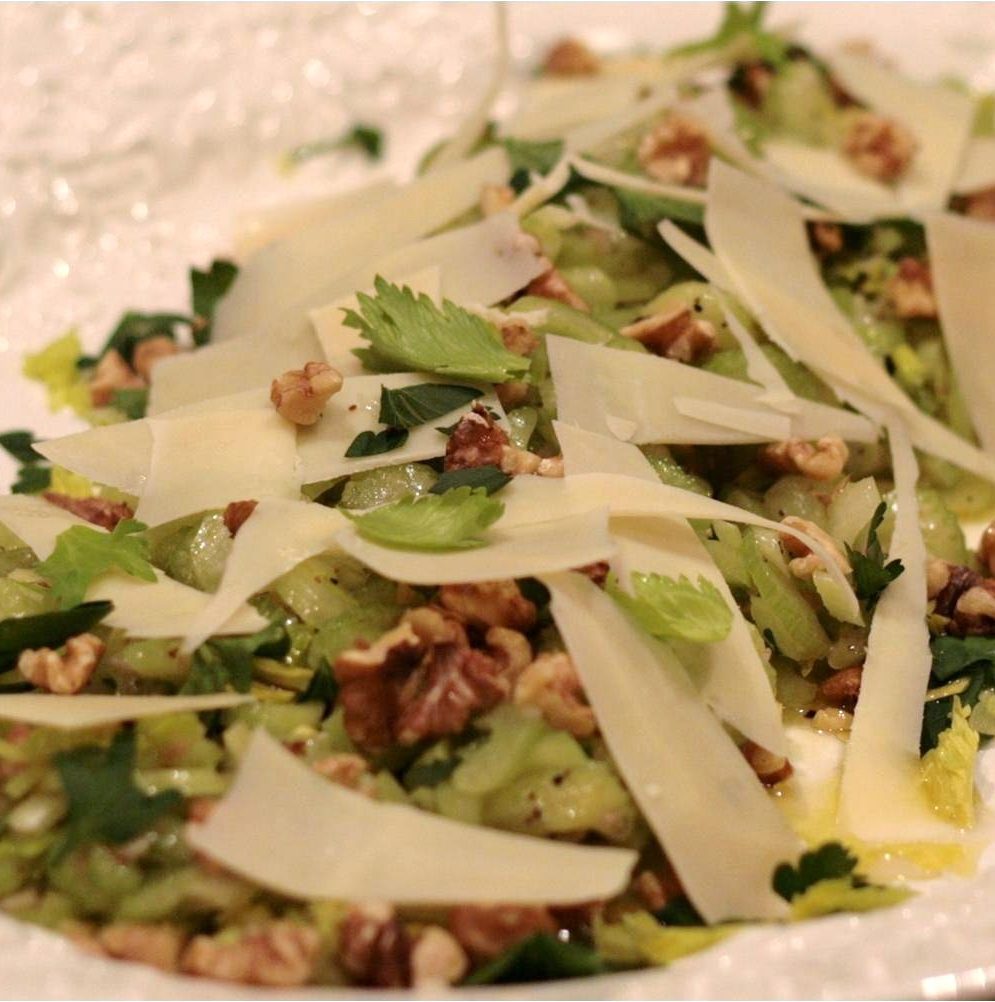 It's hard to find a healthier food than celery.  Rumor has it, eating celery has a negative caloric intake; when eaten alone, there are fewer calories in celery than the calories your body actually burns digesting it.  Paired with a tart and salty lemon vinaigrette, this dish offers a crunchy and zesty alternative to the typical lettuce salad with overly sweet dressing. We tweaked this recipe from Ina Garten (Barefoot Contessa) but only slightly.  While we used our Lemon EVOO for this dish, we can't help but wonder about other variations (Persian Lime, Tarragon, or our Garlic EVOO).  Plan ahead, this salad needs to sit in the fridge, dressed, for at least an hour before serving so the flavors combine and the celery is well seasoned.
INGREDIENTS
½ cup Olive This! Lemon EVOO, or Persian Lime EVOO
¼ cup plus 1 tablespoon freshly squeezed lemon juice, divided
2 tablespoons minced shallots
1 teaspoon celery seed
½ teaspoon celery salt
½ teaspoon anchovy paste
Kosher salt
freshly ground black pepper
5 cups thinly sliced celery hearts, tender leaves included, sliced on an angle (about 12 stalks)
4-ounce chunk aged Parmesan cheese
¾ cup toasted walnut pieces
1-2 tablespoons flat-leaf parsley
DIRECTIONS
To make your dressing, chop the 2 tablespoons of shallots and place into a small mixing bowl.  Add the ¼ cup of lemon juice, 1 teaspoon celery seed, ½ teaspoon of celery salt, ½ teaspoon of anchovy paste, ¼ teaspoon kosher salt, and 1 teaspoon pepper.
Whisk the dressing ingredients together while drizzling in the Lemon EVOO.  Whisk well to combine and emulsify.  Set aside.
Chop your celery and thinly as possible.  Be sure to include the tender pieces as well as the leafy parts.  Place the celery in a large bowl and toss the chopped celery with the remaining 1 tablespoon of lemon juice and ½ teaspoon of salt.  There is salt and lemon juice already in the dressing but this step makes a difference.
Add your dressing to the chopped celery using just enough to moisten well.  Any remaining dressing can be saved for future use on a salad or as a marinade.  Cover and refrigerate for at least 1 hour to allow the flavors to develop.
While your celery salad is crisping up in the fridge, toast your walnut pieces over very low heat in a dry skillet (about 15 minutes) flipping occasionally.  You may want to set a timer for this; we always forget about them.
To serve, arrange the celery onto a platter.  Use a vegetable peeler to shave large pieces of the Parmesan cheese.  Sprinkle the toasted walnuts, flat leaf parsley, salt and pepper.  Serve immediately.
SERVES 4
Have a comment?  We'd love to hear from you.  Have you tried this dish?  Do you have a variation that you think others will enjoy?  Leave us a comment below (providing your email address is not necessary).
Want to print this recipe without all the photos?  Use the green print button above the feature photo at the top of this page and you can print with or without the images.  Once you're in the print module look in the header for the checkbox that says "Remove Images".
1,887 total views, 1 views today