Olive This! is proud to support our friends and neighbors in business.
---
Bird House on the Greenway
www.birdhouseonthegreenway.com
Bird House on the Greenway is owned and operated by Carol Buie and Jay Jackson.  Both have been avid birders and wildlife enthusiasts for more than 30 years and have a great deal of knowledge about the local birding community.  Their store has many wonderful finds – be sure to check it out!
---
Carolina Fish Market
www.carolinafishmarket.com
The Carolina Fish Market features the freshest Carolina favorites and only sources fish from the most reputable and highly respected local suppliers and local fisherman. Live local, shop local, eat local.
---
DAC Heating and Air
www.dacserviceshvac.com
We can attest from our experience that DAC provides exemplary heating and air conditioning service built on a foundation of honesty, education, certification, and high ethical standards.
hr />
Dancing Tree Furniture
www.facebook.com/DancingTreeFurniture
Founded by Brian Turkalo, The DancingTree Furniture Company produces 100% sustainable furniture from rapidly renewable and/or recycled materials. In order to promote its cause (forest preservation), Dancing Tree goes the extra mile on the design front, and make it easy for their clients to do the right thing!  Our beautiful check out counter and artwork were designed and produced by Dancing Tree Furniture Company.
---
Dog's Breath Designs
www.dogsbreathdesigns.com
Miriam, an artist who grew up in the Carolina Lowcountry with a love of pottery and pets, offers a unique selection of pieces for our two- and four-legged friends.  Dog's Breath Designs is truly an idea that was born and bred in the Carolinas, and it is continuously inspired by those same Palmetto roots.
---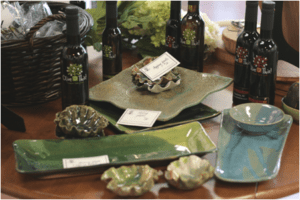 Dove Pottery
Waxhaw, North Carolina
Local artisans from Waxhaw, North Carolina.  We are very pleased to be offering many beautiful Dove Pottery pieces in our store!
---
Great Harvest Bread Company
www.greatharvestcharlotte.com
The Piper Glen Great Harvest bakery mills their flour daily to keep it whole and maintain all the protein, fiber, vitamins, minerals, and phytochemicals the wheat kernel naturally provides.  Olive This! is pleased to offer our neighbor's wonderful bread for sampling our oils and vinegars.
---
McNelly Softworks
www.mcnellysoftworks.com
McNelly Softworks was founded in 1988 by professional software developer John M. Wargo.  In 2010, the company moved to the Charlotte, NC area. It currently manages several web properties and helps local companies with implementation of commercial web sites using open source content management systems (CMS).  John is smart and was very patient with us as we built the Olive This! website; you wouldn't be reading this page if it weren't for John!
---
Salon Piper Glen
www.salonpiperglen.com
A full service salon in the Shops at Piper Glen (and a next-door neighbor to Olive This!), Salon Piper Glen stylists are committed to giving each and every client an experience that they will enjoy in the salon.  In addition, their goal is to give you a look that makes you feel positive about yourself.  You'll keep coming back.
---
Salts of the Earth
www.salts-of-the-earth.com
Salts of the Earth, purveyors of fine gourmet and specialty salts, offers over 120 unrefined, all-natural salts from more that 30 countries around the globe.  We have a large selection of these wonderful finds at Olive This!  Their motto is "use less, taste more."
---
SCORE
www.sba.gov/content/score
SBA works with a number of local partners to counsel, mentor, and train small businesses.  Tony, our assigned SCORE mentor, has been extremely helpful in getting our business off the ground.  His past experience, deep knowledge, keen insights and, of course, patience has been invaluable to us.  We encourage new business owners to consider taking advantage of the SBA SCORE program.
---
Security Solutions
www.ssicarolinas.com
Security Solutions, Inc., provides protection and peace of mind to homeowners and businesses in the metropolitan Charlotte, NC area, who seek to secure their families, employees, pets and possessions.  Ask for Joe Ricco, he'll take great care of you.
---
Starbucks Piper Glen
www.starbucks.com/store/6799
Starbucks coffeehouses have become a beacon for coffee lovers everywhere. Come say 'hello' to the friendly staff at the Piper Glen location.  We think they're the best.
---
Swimmer Insurance Agency
www.swimmerinsurance.com
From the agency's offices on Providence Road in Charlotte, North Carolina, Swimmer Insurance provides a full portfolio of commercial and personal risk management products, through some of the most established and trustworthy carriers in the industry.
---
Total Merchant Supply
www.totalmerchantsupply.com
Total Merchant Supply provides customized, cost-effective merchant accounts and POS systems for merchants and professionals in the greater Charlotte area.
---
Trader Joe's
www.traderjoes.com
Trader Joe's has great everyday items but you'll also see innovative, hard-to-find, great tasting items and priced right!  In fact, you'll notice several Trader Joe's ingredients in most of our Olive This! recipe photos.
---
Zia Pia Imports
www.ziapia.com
Zia Pia is a boutique importer specializing in the finest, most authentic, artisanal Italian foods. Their suppliers are non-industrial, typically small, family-owned producers who have been using the same, traditional methods for centuries.  We are pleased to carry items from Zia Pia Imports at Olive This!
---
899 total views, 1 views today